Strategy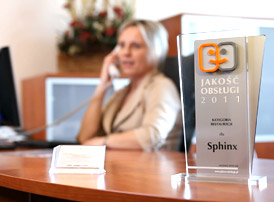 Mission
We care about the costumer. We build long-lasting relations, offer diverse services
and professional service.
Vision
To strengthen our position as an expert in restaurant chain management. To manage, within the Sfinks Polska Group, chains totalling at least 400 restaurants. To achieve the leading position in the market of sales within the system of customer delivery
Values
Creativity and originality - we search for new ideas and concepts with passion, we create our own solutions.
Readiness for change - we treat changes as constant development opportunities.
Diversity - we respect different cultures, experiences, outlooks and views, which allows us to create products and solutions meeting the expectations of our customers.
Reliability - we operate and work in a fair manner, responsibly and reliably, continuously building trust of our partners and customers.
Professional approach - we raise the qualifications and improve the technologies with full commitment.

Strategy of the Sfinks Polska Group 2017-2022
Shortcuts
Company Authorities